Historical Fires That Shaped Building Codes
Subscribe to our Blog
Tragic fire events throughout history have prompted the development of codes that protect the safety of building occupants – a subject that builders and property managers alike are familiar with. Building code changes made within the last 10 years, combined with increased security and frequent litigation with regard to injuries and fatalities, have prompted a greater focus on the operation of doors and hardware. Let's take a look at a few of the devastating historical fires that have had a direct effect on the building codes that stand today.
Historical Fires:
Triangle Shirtwaist Factory Fire:
On March 25, 1911, the Triangle Shirtwaist Company factory in New: York City burned, killing 146 workers. It is remembered as one of the most infamous incidents in American industrial history, as the deaths were largely preventable. Most of the victims died as a result of neglected safety features and locked doors within the factory building.
Located on the 8, 9th and 10th floors of the Asch building in New York City, more than 500 employees were cramped inside the factory. The doors and stairwell exits were locked, which was then common practice to prevent employees from taking breaks and to reduce theft. When the fire broke out in a scrap bin on the 8th floor, , there was no audible alarm to alert employees throughout the building. The workers, trapped as the building was on fire, were forced to jump from the building to their death from high windows because the means of egress was blocked. Nearly 150 people perished in the flames of the Triangle Shirtwaist factory that day. To learn more about this tragic, historical fire, click here.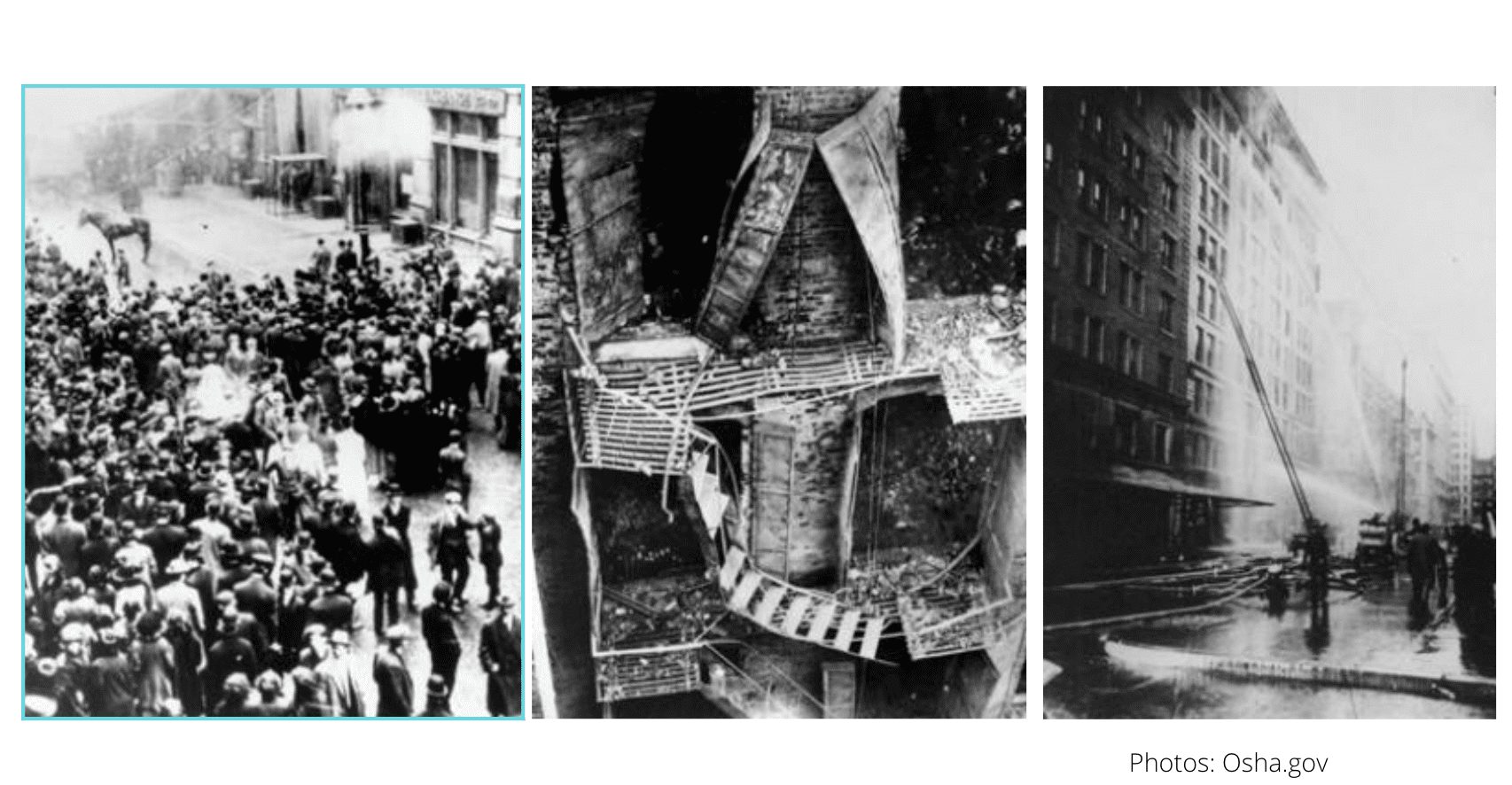 Cocoanut Grove Fire:
A fire broke out in Boston's very popular Cocoanut Grove nightclub on November 28, 1942, killing 492 people, sending 166 to Boston-area hospitals and impacting countless others. This is the deadliest known nightclub fire in the world. While no one knows exactly how the fire started, its influence on fire and safety codes and on the medical treatment of burn victims still resonates. Here are some of the devastating statistics from that fatal night:
Occurred in 1942 at a popular nightclub in boston
Deadliest nightclub fire in history
Claimed a total of 492 lives and injured hundreds more
Inadequate means of egress
The building's main entrance was a single revolving door, which was rendered useless as the crowd stampede in panic
Other avenues of escape were useless – side doors had been bolted shut to prevent people from leaving without paying
A plate glass door had been boarded up and couldn't be used for escape
Later it was found that a fire door swung in the wrong direction. With proper inspection, this could have been easily corrected and saved over 300 lives
Rhode Island Night Club Fire:
On February 23, 2003, a blaze at The Station nightclub in W. Warwick, RI, claimed nearly 100 lives. Now known as the fourth deadliest night club fire in history, sparks from the pyrotechnics display ignited and quickly spread across the ceiling towards the front doors. Within 4 minutes the club was engulfed in flames. As the fire spread rapidly, though, panic ensued and most of the 400 people at the concert attempted to leave the club through the front entrance.
As black smoke filled the club's interior, the desperate rush of people to the front entrance caused a pile-up, trapping people where they stood. Though firefighters, who responded within minutes, worked hard to pull people to safety through the front door, 96 people died in the smoke and flames. Most of the bodies were found near the front entrance due to inefficient means of egress and lack of a sprinkler system.
After the fire, NFPA enacted tough new code provisions for fire sprinklers and crowd management in nightclub-type venues. Those provisions mark sweeping changes to the codes and standards governing safety in assembly occupancies.
Changes Ahead
These deadly, historical fires all played a major role as NFPA's Life Safety Code® as it stands today, especially when it comes to the inspection requirements for maintaining the means of egress and the inspection of fire door assemblies. Today's Life Safety Code® includes provisions that require building owners to ensure fire exits are inspected and free of obstructions and that they must maintain inspection records of each inspection.
The most effective fire protection plans include detection, suppression and containment requiring both active and passive fire protection. Active fire protection includes all systems designed to suppress or extinguish fire once it has started, as well as aid in the evacuation of occupants. These include smoke detectors, building pressurization, fire alarms, sprinklers, exit signs, and evacuation plans. However, active fire protection systems do not prevent the spread of smoke and toxic gases, the leading cause of death from fire. Passive fire protection is designed to prevent smoke, toxic gases, and fire from spreading; and by compartmentalizing fire, passive fire protection systems:
Strengthen the effectiveness of active systems
Facilitate occupant evacuation
Protect property
Minimize property damage
Compartmentalizing the building with fire-rated separations like fire walls, fire barriers, fire partitions, smoke barriers, and smoke partitions is a critical feature of the system. When penetrating these walls or partitions by the ductwork of the heating, ventilation, or air conditioning (HVAC) system, the integrity of their ratings are sustained by the use of fire dampers, smoke dampers, or combination fire/smoke dampers. These three damper types perform different functions and are installed and maintained differently as well. Knowledge of these differences is imperative to the proper application of the dampers and their performance in the life/safety system.
The story of fire protection is one that continues to change. Fire protection professionals study history and learn from historical fires likes these to determine code requirements needed to protect lives. The key is enforcement. How many lives can be saved?