Why you should move to digital solutions for your facility inspection
Subscribe to our Blog
For the most part, recording a facility inspection could simply be a matter of putting pencil to paper. There's no doubt this is the most common method. It's tried and true and it isn't going away anytime soon. However, as technology constantly advances, so does the software available and many industries are embracing it. While some occupations rely on software more heavily than others, it seems like it's only a matter of time until all manner of jobs are benefitting from the increased efficiency and productivity offered by the multitudes of software available.
You might be thinking that software isn't appropriate for your occupation or maybe the increase in efficiency or productivity seems negligible and outweighed by the financial investment of purchasing software as well as the time investment of learning the software and integrating the software into your processes.
But in light of current events, specifically the COVID-19 pandemic, it's in the best interest of every business to review their processes, seek out digital solutions, and implement those solutions as soon as possible. Some companies are finding they have to pivot their business model more than others. With facility management, where working alongside other people is difficult, if not impossible to avoid, it's guaranteed that drastic changes are necessary.
As of this writing, we're nearly a year into the coronavirus pandemic, so you've certainly made changes by now, but don't get complacent. We all know there's always room for improvement and now isn't the time to just hope things return to "normal". And let's be honest, even when things do return to "normal", many adjustments, both personal and professional, are here to stay.
If you're still on the fence, there's something that can't be disputed: while many industries are on the decline, the software industry is booming. Why? Because most software facilitates work that can be accomplished while maintaining a safe distance from others. That benefit alone is one of the reasons facility managers, maintenance personnel, and facility engineers are looking at software for any solutions that can make the transition easier, and in many cases with increased efficiency. The ability to maintain a safe distance from others is becoming the number one reason to take a look at what's out there.
So maybe you've made a few necessary changes maybe due to new rules and code, but you're still on the fence about the benefits of taking your facility inspection work further into the digital space. In that case, maybe some context on the history of how software became so widespread will sway you. It can be intimidating to change your processes, especially under the current circumstances, but our knowledgeable team is well versed in the ins and outs of fire and life safety systems. Feel free to contact us and we'd be happy to demonstrate how the Safenetix app can be a vital tool in your workflow. Even if the app doesn't meet your needs at this time, we're always here to offer our experience and knowledge to anyone who could use assistance in these trying times.
Keep in mind that implementing software to make life easier isn't a recent trend. Software has been prevalent for nearly half a century, it just hasn't been as widely available as it is now. In the 80s and 90s, most industry-specific software was the result of a business making a heavy investment into building software. Of course, the result was proprietary software tailored for that business's industry and even their specific processes.
Proprietary software isn't going away as many businesses still have specialized needs, however the exponential increase in resources, such as skilled programmers and more sophisticated hardware has resulted in a wealth of affordable software that ranges from general tools, such as the ubiquitous Microsoft Excel, to industry- and job-specific software, such as QuickBooks for accounting or even the Safenetix mobile app for fire and life safety inspections.
So not only is there a surplus of software, but mobile devices are completely ingrained in our everyday lives; meaning most people have the capability of conducting these digital fire inspections using the device in their pocket. With software like the Safenetix app, each inspection is guided which reduces the chance of error by ensuring that all components of an inspection are covered.
For example, when you're inspecting a fire door for the first time, the app will show you all the fields to fill out to have a complete record of the fire door.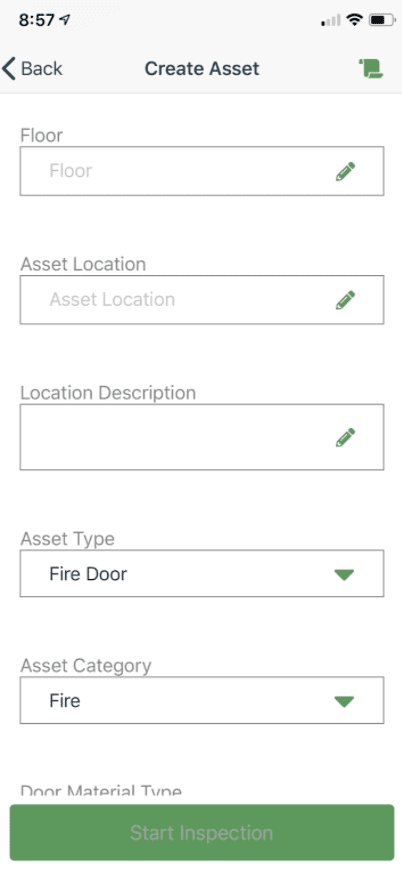 This record will be synced to the cloud and all future inspections of this fire door will be associated with this record. So you only need to do this once, and then in the future you can go straight to inspecting the fire door.
Once the fire door exists in your account, you can proceed to the actual inspection form shown below.
The first two fields will open your device's camera so you can take a picture of the door in both secured and unsecured. The red camera icon indicates that the picture is required to submit the inspection ensuring that the correct steps are taken. The remaining fields will walk the user through the different components of the door that are required for NFPA compliance. Any fields marked "Non-Compliant" will open up an additional field to mark the specific deficiencies discovered during the facility inspection.
Once all fields have been filled, the inspection can be submitted. Your submitted inspections will be retained on the device until they have been uploaded to the cloud, which should be nearly instantaneous, but even if you're in a remote location or a below ground level of a facility where internet connectivity is weak at best your completed inspections will be automatically uploaded once your device regains connectivity.
Once you've completed the job in Safenetix, the fire door inspections you completed can be viewed in the web app, accessible to any admin user in your organization. Your inspections can be exported as PDF, perfect for sending to your AHJ, or Excel reports if you just want the raw data including in spreadsheet form.
The screenshot below displays the various filters and options available for generating the reports that are tailored to your needs. For example, you can generate a report that contains the inspection details of one single job, all jobs within a date range, or jobs at a specific facility.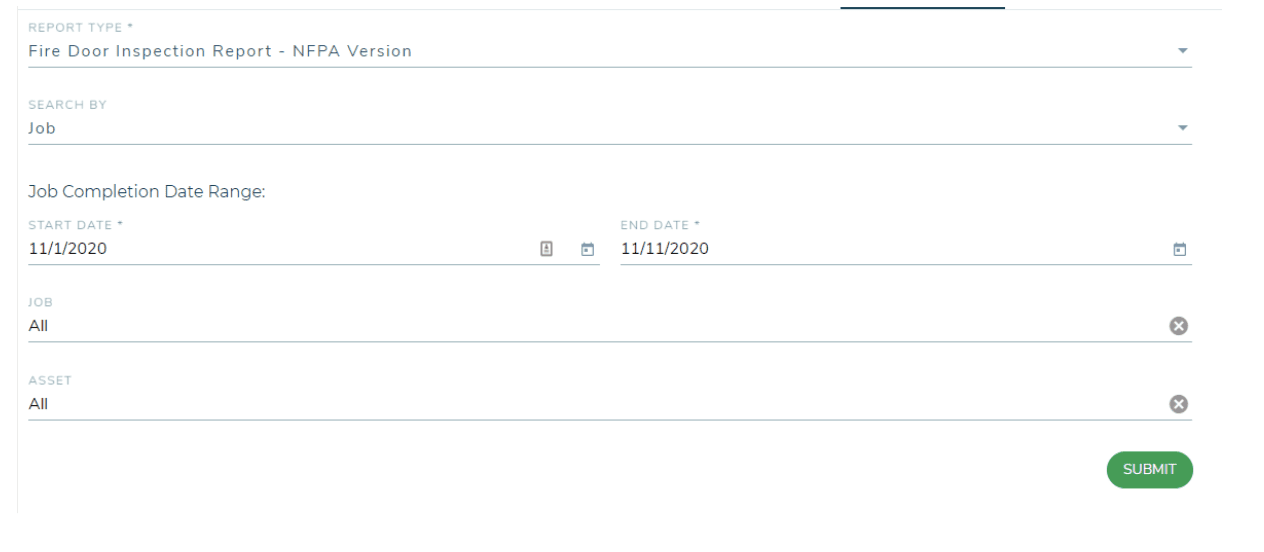 Even if our app doesn't quite meet your needs, let us know if you're looking for other opportunities to assist with your facility inspection needs, specifically maintaining your fire and life safety systems. Feedback is always appreciated, but we at Safenetix know that it shouldn't be difficult to find help when it comes to keeping facilities safe. The internet has a vast amount of resources and information, but that can make finding the right answers a daunting and confusing task. We're dedicated to assisting any and all facility personnel maintain a safe environment, so reach out. If our products aren't right for you at this time, then we can almost certainly point you in the right direction.
Ready to take the leap?